Why have a W3 website..?

This website seeks to portray the actual conditions of close-country combat experienced by New Zealand infantry on active service in Vietnam, to strip away the myth and reinforce the actual. A website allows the individual experiences to be easily published and readily accessed. At the time the Vietnam war was being fought most New Zealanders saw it as simply a political issue with a moral overtone, and little consideration was given to the individual cost to veterans required to cope with the actual combat and its physical aftermath. The more recent Agent Orange controversy raised the public interest in the treatment [or not] of veterans and a renewed interest developed in the New Zealand armed forces contribution to the Vietnam War. 40-odd years on the controversial subject, rarely before mentioned in polite company, has become something families, politicians and historical researchers grapple with frequently.

Why were you called W3 Company..?

New Zealand contributed two rifle companies each year from 1967, the initial company was designated Vietnam Company with the phonetic 'victor' used. The 2nd company was called W Coy (next letter after V) and known by the phonetic 'whiskey' (also spelt 'whisky'). As each company was replaced the number incremented to distinguish the deployment. W3 Company was the third and final W Company, leaving in November 1970 without replacement. There were six V Companies.

Who were W3 Company..?

W3 Coy was manned initially by 160 professional infantrymen, including members of other corps who were assimilated into the company before deployment, 155 arriving as the main body in November 1969 joined by five more already posted in SVN. Check the nominal roll for details of individual veterans. Reinforcements to maintain the Company strength were drawn as required from soldiers already in SVN or from 1RNZIR. New Zealand did not use conscription.

Where did W3 Coy come from..?

W3 Coy was raised from within the ranks of 1RNZIR, the New Zealand infantry battalion based at that time at Terendak garrison near Malacca West Malaysia. W3 Coy did its pre-deployment training in West Malaysia.

Were any W3 Coy people killed in Vietnam..?

Three W3 Coy soldiers died while on active service in South Vietnam, and 16 were wounded.

Who did W3 Coy fight alongside..?

W3 Coy was integrated into the 1st Australian Task Force, part of the New Zealand component of the RAR/NZ (ANZAC) battalion. W3 Coy did not directly assist US Forces. W3 Coy, for a short time, trained Vietnamese troops for the Government of South Vietnam.

Who did W3 Coy fight against..?

The enemy were predominantly Viet Cong guerrillas from within the local population of Phuoc Tuy Province. The majority of contact with the enemy was sudden and at short range, and often from ambush. W3 Coy is credited with killing 54 Viet Cong during its 12-months on active service.

When did W3 Coy deploy..?

W3 Coy

deployed to South Vietnam on 14 November 1969 and returned to 1RNZIR (now in barracks in Singapore) on 10 November 1970.

Where did your tactics come from..?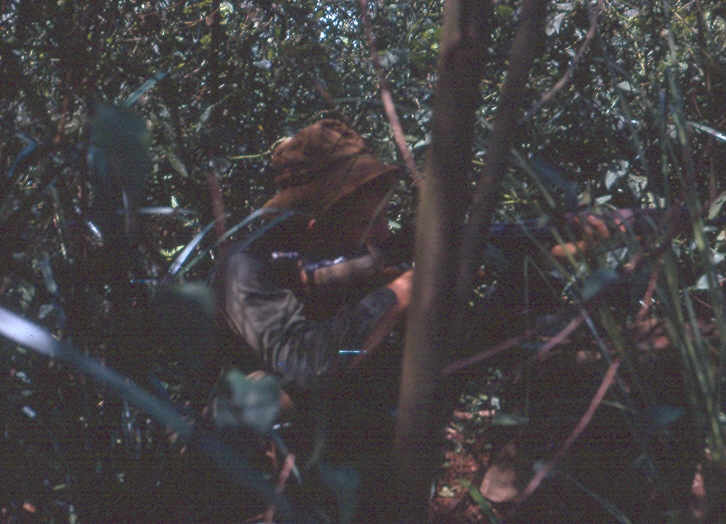 New Zealand close country small group tactics were originally derived from experience working with British forces against communist terrorists during the Malayan Emergency in the mid-1950's, and during 'Confrontation' with Indonesia in the mid-1960's. These tactics were further refined by each company while in South Vietnam and passed as 'valuable lessons learnt' to the next infantry company to deploy. The genre for

the tactics was based on stealth, unpredictability, and ambush. An example of just how quiet can be read here.

Why are there not more photos of W3 people actually
fighting the VC..?

Generally, when engaged suddenly with the VC the soldiers were holding their rifles into the shoulder in the aim, looking for targets, and there was no opportunity to take photos.

Why is your website narrative full of abbreviations..?

The acronyms and abbreviations used in this website give an example of the military language used in official reports and orders in the New Zealand and Australian forces in the 1960's and 70's; actual usage can be found in original documents linked to different website pages. A full

glossary is at this link.

Military reporting uses authorised acronyms, abbreviations and brevity codes to identify terms, clarify jargon and assist common understanding with reports within the armed forces; they are not normally used for a wider audience. Where clarity is not guaranteed the acronym or abbreviation is followed by the full word or title in brackets. An acronym is a word formed from the initial letters of a name or parts of a series of words: MFC > mortar fire controller. An abbreviation is a shortened form of a word or phrase: Coy HQ > Company Headquarters. A brevity code is a shortened form of a frequently used phrase, sentence, or group of sentences, normally consisting entirely of upper case letters, an example are these commodity codes.

ask the webmaster questions about W3 Company