Farewell Address to W3 Coy 9 November 1970 - Major Torrance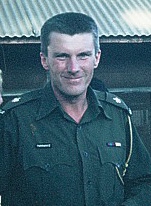 The final gathering of W3 was in the mess hall on 9 November 1970 where the OC Major Torrance made his final speech and presented mementos to everyone. It was quite an emotive time as W3 were breaking up after 18 months together and the opportunities to see and work together in the future would be fleeting and probably infrequent. This is what the OC said.
"Tomorrow we leave South Vietnam. As you know our government has seen fit to match the withdrawal of 8RAR by a similar withdrawal involving our Company. The decision to withdraw troops from Vietnam has been accompanied by wide publicity and there would be hardly a soul in New Zealand that would not know of our pending departure. Politically our move is most important for besides serving to quieten the anti Vietnam protesters it indicates to the thinking public that conditions are right for withdrawal – that the war is being won and that our services are no longer required. All this adds up to the simple fact that we are history in the making – tomorrow you can identify yourself with the first New Zealand pull out from South Vietnam. As you think about this fact you'll probably be asking yourself the questions. Are we doing the right thing? Was it worth it? What does the future hold for South Vietnam? and possibly others. The answers to these and other questions are not always clear. We find that we live in an age where there is great controversy over many things but nothing matches the controversy over the involvement in South Vietnam. So as I speak to you for the last time as your Company Commander I would be failing in my duty if I didn't present to you my thoughts on aspects of the war that have effected and will in the future effect you and I. Now what is the best way to tackle this ticklish problem? Probably best that I quickly run through what I deem to be the highlights of our tour and at the same time indicate to you where we have made a valuable contribution.
Highlights
The May Tao operation you will recall was hailed by the CO 6RAR as the high point of 6RARs tour. Although we did not get intimately involved in the winkling out of the Charlie from the mountain complex we were able to "find our feet" so to speak over great tracts of very dry jungle. We witnessed the vulnerability of the VC hospital, munitions' and workshop locations and we set the pattern of cool, calculated, alert patrolling and ambushing that would stand us in such good stead in the months ahead.
The operation in and about the Courtenay was, as you know one of our more successful operations. Here we tried out the half platoon ambush, the move in under cover of darkness, and the saturation patrolling concepts that the ground and enemy tactics made us evolve. Here we witnessed the fact that Charles (VC) depends for his sustenance on the locals. Mao has said, "Communist soldiers are like fish swimming in the water of the population". We could see that by denying Charles access to the Viet Cuong and B6 villages he would drown. You will recall the Armoured Personnel Carrier journey from Ngai Giao to FSPB Peggy. At the time of our trip Route 2 north of Ngai Giao was subject to frequent mining's and ambushes. When I talk about progress shortly remember Route 2 as we knew it then.
Then to the Horseshoe. "Vietnamisation" calls for the eventual takeover of the combat role in South Vietnam by Vietnamese troops. Already great strides had been made and we were to do our part in the training of elements of 18 ARVN Division. This was accomplished in a most effective manner and we can feel justifiably proud that B Company 5 Cavalry Regiment acquitted itself beyond expectations in operations to the north of Xuyen Loc and in Cambodia. Besides the ARVN training role we effectively contributed to the security of Dat Do to such an extent that now D445 is fragmented and out of province.
The last six months has seen us operating between Route 15 and Route 2. Whilst not spectacular we, more than anyone have caused the scattering and continual movement of D65 and Chau Ducs. This has led to these units becoming virtually non-effective and such is the continual harassment that substantial numbers are now Chieu Hois (A programme to encourage enemy soldiers to lay down their arms – a financial incentive was involved)
For most of us the "holding of the ground" operations at Le Loi, Long Son Island, Gail and Jill would be passed off as a waste of time. And it was interesting last Thursday for the CSM and I to hear the Task Force Commander Brigadier Henderson make mention of our role during this period " You fellows filled an important gap and did it magnificently. Such is the depth of skill and experience in your company that you are able to operate as a mini battalion".
So those are some of the highlights of our active service tour.
Has it been worth it? What have we achieved? I asked these questions earlier. Now to attempt to answer.
Was it worth it?
This question serves to remind us that we leave Vietnam tomorrow ever mindful that three of our number have given service with their lives. During our year here the most dramatic changes that have occurred are as follows
1. The well organised and effective units D440, D445, D65 and Chau Ducs have been fragmented and put on the defensive and are as of now not engaging in any attacks by fire of their own planning.
2. Town and village security is such that local government, education, agriculture and commerce can carry on with only sporadic and poorly coordinated interference.
3. ARVN, PF, RF, and PSDF would appear to be prepared to accept the fact that come another 12 months or less they could well be left on their lone. They have set about to improve their efficiency and combat readiness.
4. Good progress has been made in opening up the country. Most of us have seen the progress along Routes 2 and 15. We have witnessed the fields of Japanese hybrid dry rice, maize, beans, and pumpkins on land won from the jungle. We have noticed the surveyed land along Route 15 that has been claimed by peasant farmers. Those shanties were occupied by the claimants.
5. Withdrawal of American forces has been able to take place without a worsening of the situation.
To be fair we must accept that the people at times have resented our wealth and presence, that corruption is a way of life of these people and that the Vietnamese Forces at times seem to have no heart in the fight. However, I honestly believe that given time, patience and our moral support that this country can become a free viable country with a future. Optimistic perhaps but we owe David Wright, John Gurnick and Thomas Cooper an outlook such as this.
The Future
Later this month we go our various ways – about 60 of you remain with the company, about 40 of us go back to New Zealand and the remainder to new appointments in Singapore. To those remaining with the company you can be very proud that you are remaining in a going concern. The other soldiers in Nee Soon will be keen to learn of your experiences and those in B Company of what they can expect in South Vietnam when they replace V5 Company in May. By all means tell them what we did but here a note of caution. Don't be so narrow minded that you put across what we did as the complete answer. Be flexible enough to realise that with a changing tactical situation - that is change of ground, enemy locations, enemy strengths, enemy tactics, and the strength and dispositions of our own troops - that operating procedures will change. Let me quote an example. When we arrived in this theatre last November we dug in each evening and slept on the ground. Charles tactics etc. dictated that we do this at that time. As Charles became more fragmented and was not prepared to hit back with any determination we eased up on the digging and hammocks were allowed. And so it is with many other aspects of operations in this theatre. You will be called upon to assist B Company in its training. Carry out this important task with the same enthusiasm that you have shown in Vietnam and remember the fine contribution that ex V3 Company lads made to the training of us. One further point and get this firmly tucked away in your head. Singapore is the world's model of a dynamic Western orientated Asian nation. Behaviour, along the lines that some of you turned on in Malacca and Vung Tau will bring swift and painful repercussions that will send you reeling backwards. Be ever mindful that you are ambassadors for the Army and New Zealand as a whole. Those being posted to other appointments within 1RNZIR much of what I have just said applies equally as well to you. As ex W Company folk you are charged with ensuring that the company gets the utmost support from the supporting agencies. To those winging to Aotearoa in the next week or so we would wish you all the very best in your new appointments. A pleasant trip, a happy reunion with your mums and dads, sisters, brothers, relations, girl friends and an enjoyable well earned leave.
Salutations
In years to come sportsmen and in particular rugby fans will remember 1970 as the year that the All Blacks toured South Africa. You and I and folks associated with the military will remember 1970 as the year that W3 Company served in South Vietnam. As I have pointed out to you before there are a number of subtle similarities between the All Blacks and W3 Company. One that you won't deny is that success for both of us depends upon a team effort. The All Blacks are at their best when the 15 men wearing the silver fern click together as a team. The 128 members of our team depend like the All Blacks on everyone pulling their weight and I am pleased to say that with minor exceptions every one of you has given of their best throughout a year of active service duty. How would the W3 Company team line up on paper? I've got my ideas so how does this look.
The eyes, ears and noses of the company have been out front with the lead scouts. At any given time 10 of you have been relied upon to see Charles before he sees us and for you to initiate a successful contact. You are the hookers. You need to be able to strike fast to win the ball of initiative. Without the ball the rest of us can't play this war game. You have done your job well and the statistics of the game are the proof. Up front our hookers have been ably supported by their props. The section commanders have played like Wilson Whineray's. Strong, determined, skillful – watching for an opening to lead their sections through the opposition without taking own casualties. Then the cover scouts who complete the front row. Ever ready to assist the hooker win the vital ball and being prepared to take over should our lead men get kicked in the shins. We have had a formidable front row that has not buckled under pressure and has given far more than it received. Well done you lads. We've got our iron men too. The Meads of W Company are our M60 gunners. The strong men of the pack who uncomplainingly have carried the gun and up to 800 rounds of link through difficult terrain over long distances. You are the fellows that we have relied upon for the breakthrough, the drive, and the weight of fire that will crumple all opposition. You have played a most important part in our successes. No team is complete without fast effective flanking riflemen and M79 numbers. You have been required to maneuver around the gun to catch the opposition in possession and be prepared to continue the drive into enemy territory. Your contribution and outstanding play is such that even Winston McCarthy would agree that as professional riflemen you are the best in the world today. No pack is complete without a thinking, cool, calculated and skillful Number 8. We, you'll agree, have some of the best in the business in our CSM and our Platoon Sergeants. Always hovering around broken play to tidy up. Watching the administrative back line to ensure that everyone is ready for the ball. Watching play up front and using their experience to find weaknesses in the opposition play and then adding that extra weight to gain possession. The generals and admirals of the war are the Platoon Commanders. From their half back position they have dictated play with uncanny skill. They have known when it was best to kick or pass, use artillery or gun ships, ambush or patrol. Our tactics haven't catered for the go it alone halfback nipping around the scrum to try and get through the opposition forwards. It has called for kicking ahead for the forwards to follow or feeding the backs. Our Platoon Commanders have been the Laidlaws without the Rhodes Scholarships and the Goings minus the sideboards. Who can we pick as first five eight? I don't think we can go past the MFCs, the FOs and the AFOs even though they may be Australian – some of them anyway. Never too far away from the half back, well up with the play and forever waiting for the signal for a particular move. With the great firepower but a call away our stand off halves have been able to crumple the opposition with well-placed DFs from the boot. In any team the half back and first five eight have to have had complete understanding of each other. We have been most fortunate in W Company. In our team the second five eight is but a link and back up player. Our signalers and medics have been great second five eights. Open play has been our main tactic and the signalers have been great links in the back chain. Then the medics, forever on the spot to pick up the ball from broken play, to win the advantage then look after the injured until the St John's Dustoff arrives. Unspectacular perhaps but as important as the air we breathe and the C130 tomorrow. Now what about the centre? In my team the cooks are the centre's. We can all appreciate the move where the cooks place great steaks in cutting inside the opposition and passing onto the forwards for a try. What wonderful service those cooks have given us over the past year. The excellence of their cooking has been the centre of our high morale. We are indeed grateful. The wings are traditionally fleet of foot, possess good balance and have a good eye. Our wings might not have the speed of other teams but they are honest toilers who have given of their best for the whole game and have excelled in tidying up the play. I refer to our clerk, storeman, drivers and hygiene dutyman. Perhaps they don't see as much ball as you fellows up front but you can't deny an accurate MAINTDEM from the line makes it so much easier to get possession. Your efforts are really appreciated. No team is complete without a fullback and my pick is our 2IC's and the CQMS. No one will deny the importance of this position. You'll agree the fullback must be strong and essentially practical with his hands. He must be forever prepared to meet any eventuality and he must be well positioned at all times. If he has a good pair of boots and more where they came from then he can send the forwards charging off into the opposition territory. We have been admirably served and you'll agree that the 2IC's experience as half backs on this and previous teams has meant that they have been able to add the extra points just when we needed them.
Over the past year I have been most proud to coach this match winning combination that has no equal. The scoreboard does not lie. General Abrams the US Force Commander in Vietnam has probably never played or watched rugby. What a great pity that is. However, he has written to me to comment on our play over the past year. He writes glowingly about our contribution to the war effort over the past year.
All that needs to be said now is goodbye. It has been a wonderful experience and if you have got half as much as I have out of us being together then we are all the better soldiers, citizens and ambassadors for New Zealand as a result. Have a good leave, a very happy Xmas and all the very best for the years that lie ahead."