This section has a detailed timeline for W3 Mortar Section activities
from 1 to 31 January 1970
anyone can offer corrections and updates to this detail - send here
glossary: xxxxH is a time in 24-hour clock, if six-digit the first two are date
YSxxxxxx is a 6-figure grid reference read left to right then bottom to top
[BC] means actual body count, [BT] means wounded VC identified by blood trail
full glossary here
References: duty officer logs of 1Armd, 3 Cav, 6 RAR/NZ and 1 ATF - researcher Mark Binning
1 – 4 Jan
NUI DAT with the remainder of W3 Coy, enjoyed company Christmas dinner and subsequent celebrations.

5 Jan
2Tp, B Sqn, 3Cav commenced a 4 day independent operation with RF troops in the area SE of XUYEN MOC.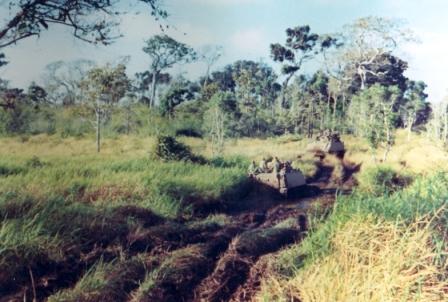 The independent op was the sections first experience with AMC, being assigned AMC c/s 82 and 82A. The armoured patrol headed east through DAT DO to XUYEN MOC to pick up RVN RF troops before off-loading them near the coast where they were to sweep south. The APC/AMC troop then took a circuitous route east and south, striking old paddy which almost bogged us (see photo).
Night locations APC group: complete at YS658683.
heavy going on RF operation [Binning]
6 Jan
Night locations APC group: complete at YS774644.

7 Jan.
Night locations APC group: complete at YS709613.

8 Jan.
YS637624. The driver of APC 22B required DUSTOFF after suffering a head injury when his APC ran into a tree.

At 1346H at YS636627 a RF soldier stood on a 20-30 lb anti tank mine resulting in 1x RF KIA, 2x RF WIA. There was a gap in the bund where an old railway ran through the now disused paddy fields. Since the gap was a potential crossing point for the APC three RF were sent to check for mines. They just strolled into the gap, and one detonated the pressure switch.

Night locations APC group: complete at YS635622.
9 Jan
APC group returned to NUI DAT shortly after last light.

10 – 14 Jan
Part of cordon at AP NGAI GIAO, Op NAPIER.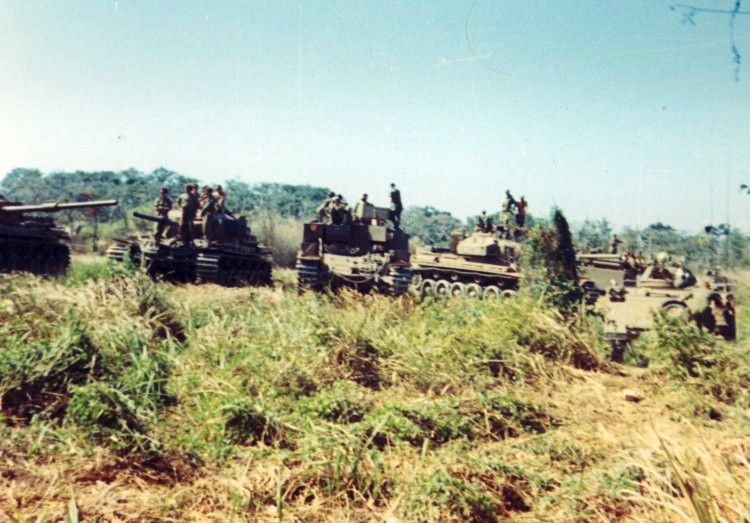 15 Jan
Op MATILDA in AO METEOR. Mortar Section [c/s85] deployed in AMC 82 and 82A with B Coy 6RAR/NZ, 3Tp B Sqn 3Cav, 3Cav HQ and a large number of Centurion tanks and echelon vehicles of A Sqn 1Armd Regt on an armoured sweep anti-clockwise through Binh Tuy Province and the NUI BE area. The force [1Armd Gp] moved east to HAM TAN and then NE of the NUI BE mountains before swinging back SW and passing between NUI BE and NUI MAY TAU [east of and close to where W3 Coy had spent Christmas day]. 1Armd Gp then returned to NUI DAT.
Night locations 1Armd Gp: YS802706.
ASqn 1Armd Regt Centurion tanks
Op MATILDA Feb70 [Binning]
16 Jan
1021hrs at YS780685 found fresh dug gardens with one wooden structure with thatched roof, 1Armd Gp destroyed structure with 20lb tank main armament rounds.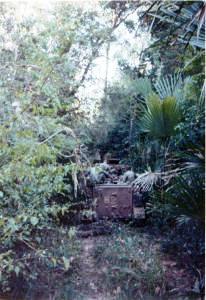 1135hr at YS804706 1Armd Gp destroyed vegetables garden.
Night locations 1Armd Gp: YS830743
17 Jan
Night locations 1Armd Gp: YS909762

18 Jan
1337hrs 1Armd Gp arrived at HAM TAN to replenish supplies, completing Phase 1 of the operation.
Night locations 1Armd Gp: YS991841.

19 Jan
1Armd Gp conducted RIF tasks to north of HAM TAN in conjunction with RF/PF Forces from HAM TAN. It was around this time that Pte Cherry fell off the back of an AMC into an imaginary minefield while asleep.
Night locations 1Armd Gp (-): YS942913. 1/3Tp [c/s31] with c/s85 YS990842

20 Jan
elements of armoured column contacted 1 VC with negative results, the machine gun which engaged the enemy had a stoppage after 1 round.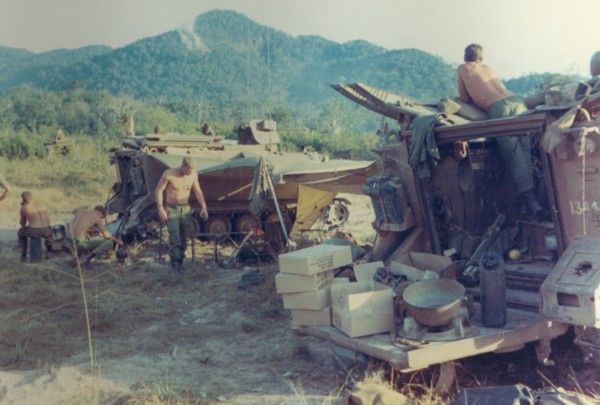 Night locations: 1Armd Gp split into three groups, at YS990842, YS993974, c/s85 still with c/s31 at YS942912.
Stu Cameron (left) and Dave Condon (right) AMC 82 north west Ham Tan and in jungle below west slopes of Nui May Tao [Binning]

21 Jan
1400H at GR897051, 6Pl B Coy with 3Tp contacted 3 VC resulting in 1 VC KIA, 1x SKS, personal gear and documents recovered. c/s85 had rejoined main force.
Night locations 1Armd Gp: YS861996.

22 Jan
2Tp 3 Cav RV'd with 1Armd Gp at YS861996 and effected resupply after which 2Tp returned to XUYEN MOC.
Night locations 1Armd Gp: YS808968.


23 Jan.
Night locations 1Armd Gp: YS787927

24 Jan
Night locations: c/s85 at YS884763. Main body 1Armd Gp: YS790790.

Resupply 22Feb between Nui May Tao and Nui Be [Binning]

25 Jan
Night locations 1Armd Gp: YS789667. Heard fishing boats off shore but advised to let Navy send patrol boat to investigate.

26 Jan
end of Op MATILDA - 1Armd Gp return to NUI DAT. 3Cav vehicles returned through HOA LONG and LONG DIEN. Tanks returned through DAT DO and Route 52.

27 - 31 Jan
operational from 6RAR/NZ mortar compound NUI DAT

full glossary here anyone can offer corrections and updates to this detail - send here