W3 Company - News Pūrongo
send W3 news here news archive
Reunion project to collect photos of all
our deceased veterans headstones
email the photo here
[do close-up photos for best detail]
link to more news from December 2020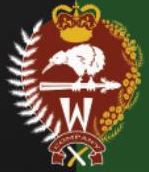 On Facebook..? - webmaster
W3 RNZIR Reunions Facebook page supports reunions that W3 RNZIR hold around New Zealand by engaging with and encouraging past members and their families to attend, to access welfare resources and to maintain old friendships. It is a closed group for W3 veterans and their families. Find yourself among the photo albums of our old reunions.
Routine news, deaths and other topics are supported. The W3 website remains as the historical record of activities.
The site is moderated and restricted to reunion and family welfare matters. Join here
NOTICAS FATAL 543240 Pte Waehapara Lucky Atatu 1Pl - webmaster [2 April 2021]

Hoki Kahukiwa advises that Waehapra (Lucky) Atatu succumbed to cancer on 1 April 2021 at Whakatane Hospital. He will be taken to Waiohau Marae before burial.

Funeral details to come.


Commemorating David Wright 2Pl - died of wounds 19 March 1970
Pte David Wright [left] succumbed to secondary infections [likely renal failure] from his earlier wounds in January and died in Concord Repatriation Hospital Sydney on 19 March 1970. Dave had been well enough by early March 1970 to be writing from Concord to friends in W3 and his death was sudden and unexpected, so sudden that a last letter was received in SVN after news of his death. Dave is buried in Esk Valley South Canterbury; his grave was visited during the W3 2015 Reunion in Timaru and regularly by other veterans.
NOTICAS FATAL 308185 LCpl David Condon mortars - webmaster [updated 30 January 2021]

Mark Binning advises that Dave Condon passed away 23 November 2020 after a long spell in hospital. He had been struggling to eat among other issues. Dave had prior service in Borneo and with 161 Bty RNZA in South Vietnam. Ann has family support.

Dave's wife Ann advises the following details for Dave's memorial service:
11.00 AM, 23rd January 2021, Northwest Baptist Church, 95 Rotokauri Road Hamilton.

Dave has been cremated but will be buried in the services section of the Dargaville Cemetery once his step son and daughter can visit from the UK.

Mark Binning: Dave's service was attended by around 70 people including Evan & Zilla Torrance, Fran and myself, Mike Morrison and Stu Cameron. Other veterans were also present. Mike and I spoke about our time together with Dave in Vietnam and our association with Dave both prior to and after Vietnam. Dave's widow Ann was very pleased with the turn out and mentioned that Dave had thoroughly enjoyed his 20 year Army service and was always keen to maintain contact with his army mates.
link to more news from 2020 - news archive