W3 Company - News Pūrongo
send W3 news here news archive
Reunion project to collect photos of all
our deceased veterans headstones
email the photo here
[do close-up photos for best detail]
link to more news beginning January 2020 - news archive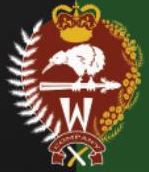 On Facebook..? - webmaster [31 January 2019]
W3 RNZIR Reunions Facebook page supports reunions that W3 RNZIR hold around New Zealand by engaging with and encouraging past members and their families to attend, to access welfare resources and to maintain old friendships. It is a closed group for W3 veterans and their families. Find yourself among the photo albums of our old reunions.
Routine news, deaths and other topics are supported. The W3 website remains as the historical record of activities.
The site is moderated and restricted to reunion and family welfare matters. Join here


Commemorating David Wright 2Pl - died of wounds 19 March 1970
Pte David Wright [left] succumbed to secondary infections [likely renal failure] from his earlier wounds in January and died in Concord Repatriation Hospital Sydney on 19 March 1970. Dave had been well enough by early March 1970 to be writing from Concord to friends in W3 and his death was sudden and unexpected, so sudden that a last letter was received in SVN after news of his death. Dave is buried in Esk Valley South Canterbury; his grave was visited during the W3 2015 Reunion in Timaru.
link to more news from before December 2018 - news archive