Remembering ALL Our Fallen
2015 Reunion project to collect photos of all
our deceased veterans headstones
email the photo here
[do close-up photos for best detail]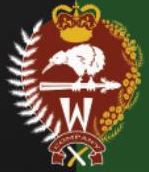 link to more news beginning July 2017 - news archive
W3 Reunion 2018 - next reunion Dunedin November 2018

Mihi ki ka Hoia Tribute to our Soldiers - webmaster [21 April 2017]

Haere mai, haere mai, haere mai rā...

The Te Runanga o Ngai Tahu Mihi ki ka Hoia Tribute to our Soldiers is published for the first time today, see this link.

For many years Vietnam veterans strived for acceptance in New Zealand society. Parade 98 and Tribute 08 alongside apologies by Parliament and more acceptance by RSA's has in many people's eyes drawn to a close the period when veterans were shunned and abused. But while Maori were involved in these official ceremonies there was only limited respect for the cultural way Maori farewell and welcome home Maori soldiers - 28 Maori Battalion were fare welled from their communities, and later the survivors were welcomed back to their marae with respect for their efforts, sorrow for their losses, returning to the nurture of their communities and families.

The lack of cultural respect shown W3 Maori soldiers in a broader sense was discussed with Te Runanga o Ngai Tahu and Fern Whitau a tē reo tutor set her advanced language class the challenge to write the W3 Mihi ki ka Hoai – their Tribute to Our Soldiers (hoia). The class took some months to develop the W3 mihi from their different perspectives and were appreciative of the opportunity to better understand the trials which Maori endured during and after their service in the Vietnam War.

Nau mai, tauti mai, hoki mai rā.
Our Veterans in the Papers - webmaster [24 / 25 April 2017]
Mike Morrison Coy HQ has described to the Taranaki Daily News about how he was wounded on Long Son Island - see this link. NB: Mike is at pains to point out that the author of the article screwed up by mixing in his piece bits from the other two veterans. The correct story of how Mike was wounded is here.

Derek Marsh Mor Sect has given an interview to The Press (Stuff) from his bed in Rannerdale Veterans Home - see this link

Lest We Forget - Visiting Dave Wright: Kendall Langston [21 April 2017]
LtCol Langston CO 2/4RNZIR and his nephews visited Dave Wrights grave on 16 April 2017.

Kendall Langston was raised as a boy in the Esk Valley area and has researched David's headstone for his blog the Southern Bloke - read Who is David Wright?

Lest we Forget.!
PUBLINTICAS Pte Ian Herd 3Pl - webmaster [updated 26 March 2017]
Gail Herd is reporting that Ian Herd is still in a ward at Logan Hospital Meadowbrook Queensland, following admission to A&E around 16 March. Ian has had a small stroke and will require some rehab.
NOTICAS FATAL 573486 Pte GL (Les) Nissen 1Pl RNZIR - webmaster [26 March 2017]
Veterans are advising that Les Nissen passed away on 15 March 2017 at Wairoa. No details concerning a funeral but it is understood family are returning from South Africa.

Post tributes for the W3 website here. Evan Torrance: Les was in the Assessment and Rehabilitation Unit of Palmerston North Hospital for a number of weeks and I was able to visit him occasionally. He was in a wheelchair so I got to take him out of the unit for fresh air and afternoon tea in the Medical Museum. He enjoyed these outings and was keen to chat about our time together in W3.
Jim Cutler: Very sad to hear that Les Nissen, ex 1 Platoon, W3 Coy, has marched off his last parade. I think all members of 1 Platoon, indeed of the Company, would agree that Les was an outstanding soldier. To me, as his Platoon Commander (on both Corps Training at Burnham and in Vietnam), Les stood out for his stature (a tall, strong chap - probably why he carried the GPMG), his all-round great soldier skills, his infectious smile, and, above all, his good character and discipline. I would not be surprised if his "conduct sheet" was blank. That is not to say that he couldn't have a good time; he did. Thank you for your service Les, and Rest in Peace.


Commemorating David Wright 2Pl - died of wounds 19 March 1970
Pte David Wright [left] succumbed to secondary infections [likely renal failure] from his earlier wounds in January and died in Concord Repatriation Hospital Sydney on 19 March 1970. Dave had been well enough by early March 1970 to be writing from Concord to friends in W3 and his death was sudden and unexpected, so sudden that a last letter was received in SVN after news of his death. Dave is buried in Esk Valley South Canterbury; his grave was visited during the W3 2015 Reunion in Timaru.
Army News February 2017 - webmaster [14 March 2017]
NZ Army routinely produce a very well written news update known as 'Army News'. The February 2017 edition is at this link. Plenty of detail concerning deployments, training accidents, new equipment and weaponry, senior appointments and sport.
NOTICAS FATAL 481068 Pte MC Rich Mortar Section RNZIR - webmaster [6 March 2017]
The Vets Net advises that Craig Rich passed away peacefully at Glengarry Rest Home Wairoa on 5 March 1917 aged 69. Craig served with the W3 mortar section during our initial six months with 6RAR. Craig stayed in service for many years afterwards, including as WO2 Chief Clerk 1RNZIR. Craig's service was at Mahia near where Jim Brown's widow Huia lives. Craig is survived by his wife Dixie Lee Rich and many mokopuna.

Post tributes for the W3 website here. Mark Binning: on behalf of the W3 Mortar Section family, rest in peace, and our condolences to his family.
PUBLINTICAS LCpl Craig Cocker 1Pl - webmaster [1 March 2017]
Craig's wife Marion has advised the following: "

Craig was diagnosed with advanced Mantle Cell Lymphoma last June. He has completed 6 months of chemotherapy and now is facing a stem cell transplant. He is going into hospital today (28 February) in preparation for the transplant on 8 March. He has coped very well so far and we are hoping it will continue." Craig and Marion live in Melbourne.
NOTICAS FATAL 30789 Ch Cl3 RJ Stachurski RNZChD - webmaster [10 February 2017]
Father Stac was ANZAC Bn chaplain during the W3 tour of duty, a photo of him with 2Pl veterans is here. He died at the Home of Compassion Silverstream on 8 February 2017. A requiem mass and funeral is to be held at the Cathedral of the Sacred Heart, Hill Street Wellington at 1100 Hours Saturday 11 February 2017 followed by internment at Karori cemetery. Messages to the Stachurski family may be sent to PO Box 14-366 Kilbirnie Wellington.

Post tributes for the W3 website here
Army News December 2016 - webmaster [18 January 2017]
NZ Army routinely produce a very well written news update known as 'Army News'. The December 2016 edition is at this link. Plenty of detail concerning deployments, training accidents, new equipment and weaponry, senior appointments and sport.
NOTICAS FATAL 33404 WO1 (Maj) RA Manning - webmaster [7 January 2017]
Roly Manning died 5 January 2017, his military funeral will be at the Westpark Chapel, 467 Wairakei Road Christchurch 2PM 13 January 2017. This news has already been widely dissimilated on the Red Diamond Facebook page.

Roly did not serve with W3 RNZIR but as SWI 1Bn Depot and later SWI 1RNZIR was responsible for much of our preparation for active service and later worked with the W3 team that trained Malay army officers in Terendak in 1971. Roly will be remembered as an engaging character and positive role model in the development of many soldiers and SNCO's. Post tributes for the W3 website here.
Eligibility for NZDF Financial Services - webmaster [2 January 2017]
Veterans, as part of the Defence community, are able to join the NZDF FlexiSaver and KiwiSaver schemes, as well as access financial advice and mortgage broker services. Find further details at the NZDF Financial Hub - www.nzdf.mil.nz/financial-hub
Website Statistics - webmaster [2 January 2017]
In February 2016 the W3 website readership slightly peaked with 1623 unique visitors, with an annual total of 17,812 unique visitors.

The first table illustrates different statistics for visitors: unique visitors is based on different IP addresses [same computer multiple visits equals one] - No of visits is a computer who has not linked to the site in the previous hour - pages is the total of times a HTML [web] page has been viewed [but does not count PDF or other files or images], while hits show total of everything viewed or downloaded [page plus all images on page are counted] and bandwidth is the amount of data downloaded and read each month.
The second table illustrates the wide range of countries finding the website; in the past the US was consistently the largest source of visitors. While New Zealand access is in third place the bandwidth for local hits at 893.35Mb is three time higher that of the US:
link to more news from before January 2016 - news archive